1960's Vintage Mod Holiday Styled Bar Cart
1960's Vintage Mod Holiday Styled Bar Cart
Two weeks ago I was asked to style a bar cart for Cheeky Vintage's pop-up shop in Market Street. When Alice told me the store was all handpicked & curated vintage designer clothes and accessories and that they were wanting the theme of the bar cart to be 1960's Vintage Mod themed, I was SO excited! I knew I wanted tinsel trees, vintage ornaments, and lots of pink/white. I never decorate like this at home, so it was fun tolet my girly side takeover. I loved the way this bar cart turned out so much, that I wanted to share it with you. It is such an easy look to recreate for a holiday event or party.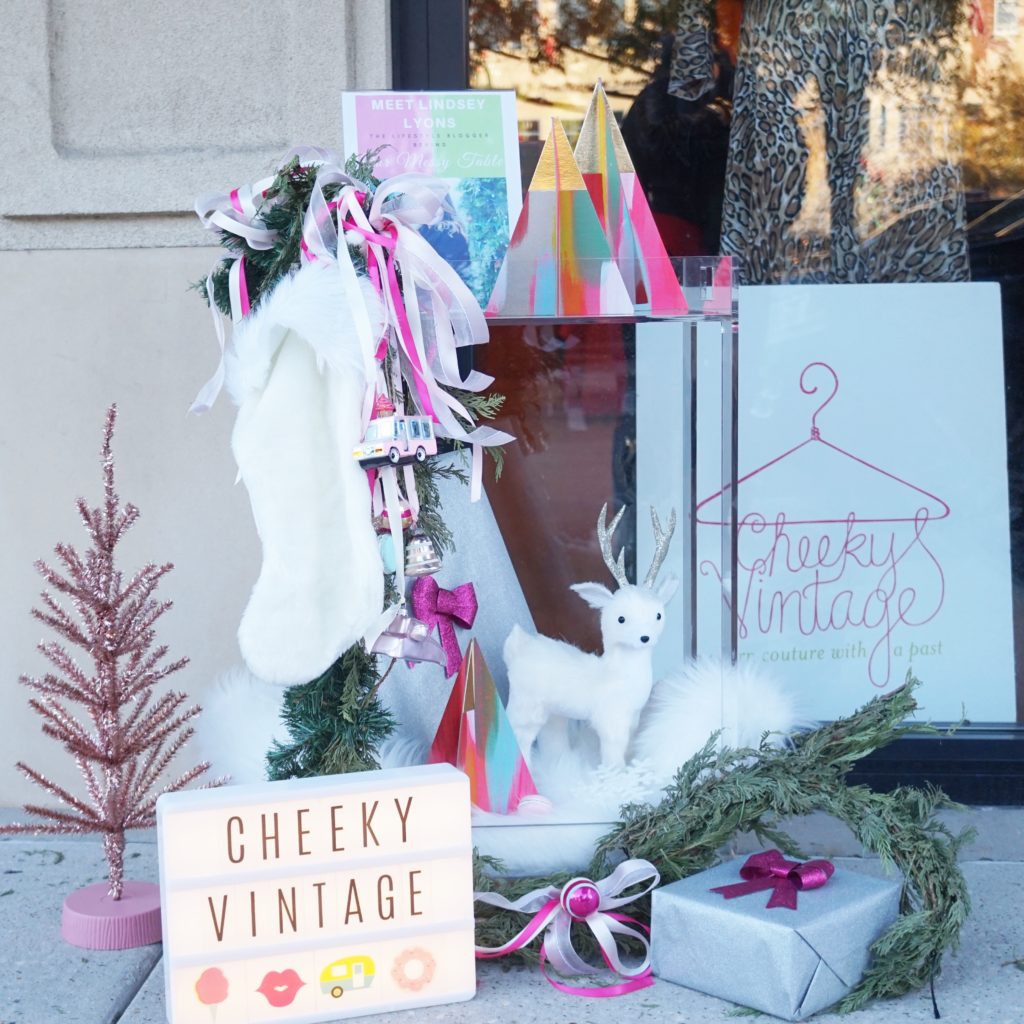 DecorationsI used: You don't have to have all of this, you can also look around at what you already have at home. The lightbox, rug,deer & stockingall came from my office. Use the ribbon and wrapped packages to fill up space as well.
Tinsel trees
Vintage or Whimsy Ornaments
Fresh Garland (

Trick

: the garland wasn't as full as I wanted it to be, so for down the left side of the barcart, I used a fake garland underneath. You couldn't tell the difference with the ribbon and everything on top and the fake garland made it easier to attach to the bar cart.)
Hot pink, light pink, and white ribbon
Lightbox
White fuzzy stocking ( I should have taken a picture of the otherside of this stocking. John decorated this stocking for me 9 years ago! He has a picture of us on it with pink princess ribbon haha!)
White fuzzy rug
White & gold glitter deer
Silver & pink glitter packages
Cupcake truck ornament from Tumbleweeds & Notions
The phone ornament was such a find. I noticed on Cheeky Vintage's instagram that they had a pink vintage phone at their store and when I saw this ornament at Tumbleweeds & Notion's shoppe, I knew I had to use it somehow.
Whimsy Polar Bear Ornament from Tumbleweeds & Notions
My favorite part of the entire bar cart was this ornament pendant ( totally not even sure what to call it?!) I took the hot pink, light pink, and white ribbon and tied it onto the ornaments andlet them hang at different levels,then at the top tied a knot of all the ribbon together then wired the pendant into the garland.All of these ornaments are from Tumbleweeds & Notions. She hadthe perfect mix of whimsy & vintage ornaments that I was looking for. My personal favoriteare the macaroon ones!
To finish it off, I used a white fuzzy rug, this cute little white deer, and these awesome cardboard trees from Tumbleweeds & Notions.I wrapped packages in different sizes to fill in the rest of the space.
We ended up serving the drinks inside, so I filled in the space with some of the extra cardboard trees, but I originally chose poka dot napkins & matching straws for the top. ( Cheeky Vintage made us this little sign – kinda freaked out & took it home and put it in a someday I'll get around to scrapbooking this exciting moment folder. ) I made holiday sangria for the drinks, it was SO good.
Holiday Sangria Recipe:
1 bottle of white wine
1 bottle of sparkling cider
Cut up apples, clementines, and cranberries
Serve chilled
Bar carts are SO much fun to decorate. I love decorating mine at home for each season.When we are not entertaining we actually use ours to hold games and blankets. Do you decorate your bar carteach seasonor use it in a nontraditional way?
Thank you so much to Tumbleweeds & Notions for letting us use her amazing ornaments & trees for this event. If you are in the Spring/Woodlands area, you gotta go check out her shoppe! She has the cutest gifts and home décor finds.
Also, a big thanks to Cheeky Vintage for letting us be apart of your pop-up. If you are in the Houston area, they have the most beautiful vintage pieces!