A Year in Coffee Mugs
If you have been following us on instagram this past year, you may have seen our Mug Monday coffee pics! Every Monday this year we shared a coffee mug, which really just gave John an excuse to hoard, I mean, collect coffee mugs! Wanna guess how many times I heard " but it is for the blog!" haha! It is okay, I love that he loves collecting them and it is so fun on the weekends, to pick out our mugs from the coffee mug cabinet. Each mug is associated with a memory, place, trip, from a friend/family, or just too darn cute to pass up! So, without further ado- our year in coffee mugs!
December:
c/o Santa Paw's Mugwas from Francesca's. It is no longer available, but they have the cutest coffeemugs! | c/oFirst Things First Mug
November:
Photocredit: Dede Raad | c/o Mrs. & Mr. Mugs(similar)
This mug is older, but the cute flower backdrop diy was from Friendsgiving!
October:
One of my favorite trips from the entire year was to Waco, TX to Magnolia Markets! I seriously love this place ( and their cupcakes!)
c/o Good Morning Pumpkin Mug (not available anymore, but she has so many other adorable mugs!)
September:
c/o Ruff Life Mug- this mug is no longer available, but how cute is this one?
August:
c/o Namast'ay in Bed Mug – no longer available, but I am also loving this one!
July:
This was right before our trip to Europe this year! John was in full on planning mode to find the best places to see. I will never forgetright next to Versaille was the cutest café and they had the best crepes! That was my favoriteplace we visited. The gardens were just magical!
June:
Both mugs are older, but John shows you here how to brew coffee with a chemex!
April: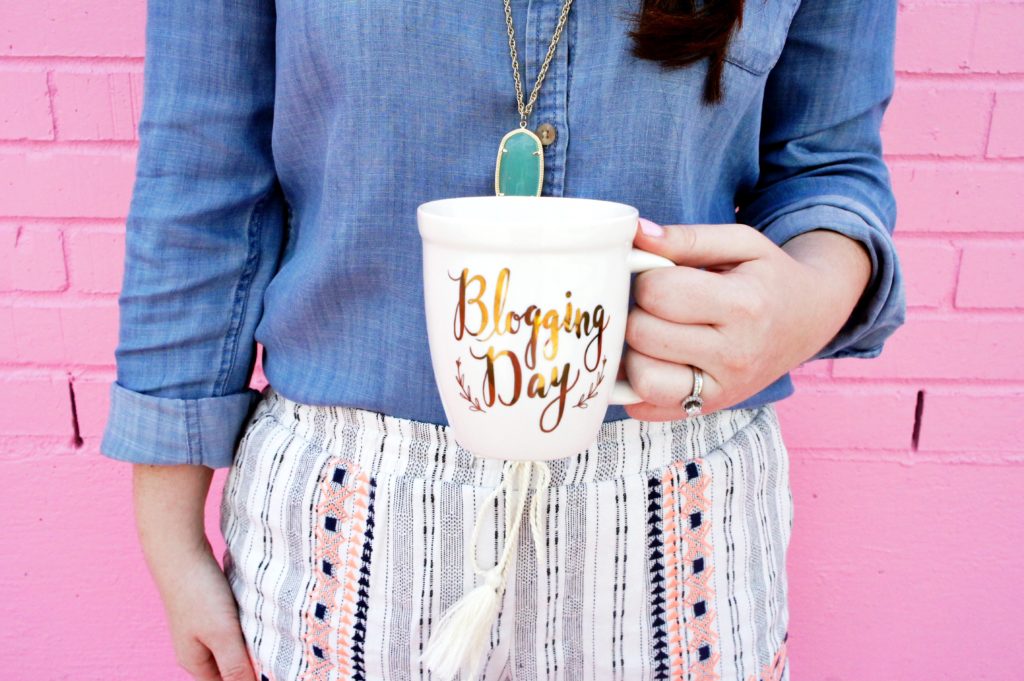 March:
The top mug was a gift to me from the a dear friend. She knows my obsession with coffee mugs! The second picture was a candid that John shot at a coffee date we had downon the strand inGalveston, TX. Mod Coffeehouse is one of my favorite coffee shops.
February:
Man, it has been so long that I can't remember where this mug is from! Sorry, y'all! I do know that it was a surprise from John. He is always bringing me home little trinket gifts. ( seriously, he is the best!)
January:
This was our very first #mugmonday post, before we even really knew we were going to make that a thing! haha! It is cool to look back at the post that started a years worth of coffee mug pictures.
Since we love a good theme, this year every Friday we will be sharingFlower Friday's on instagram! Feel free to join in and use #omtflowerfriday and we will feature our favs each month!
Thanks so much for stopping by!