April Style & Beauty Favorites 2016
Each month this "favorites" post is becoming one of my… well… favorites haha! I think it is becauseI'm getting to write about things I enjoy and love to use. And I know and trust that if/when you try them they won't let you down. I also like it so much because someone's favorite things are personal and here at OMT we want to be personal. In a way I feel like these posts allow me to share a little bit of who I am with you and also tell you about really awesome things. Hopefully you enjoy them as much as I do. Today I am sharing my favorite styleskirt and beauty products as well as a few other favorites items from this month!
April Style & Beauty Favorites 2016
I love the elegant and girly feelof the midi tulle skirt's right now!I worethis skirtto Mother's Day Brunch last weekend. It is very comfortable and versatile. You can dress it up with a more formal top or I also like to wear it with a chambray button-up and give it a more casual feel. I got mine from Francesca's.Unfortunately, it is not on their website anymore, but here is a similar one from Anthropologie.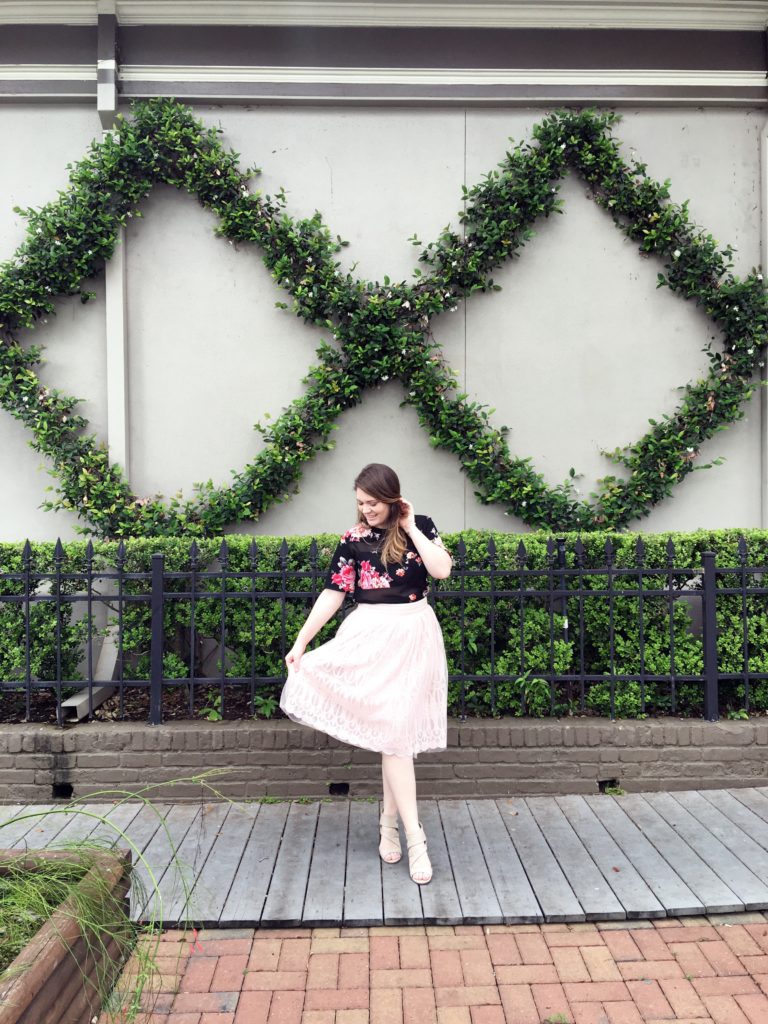 Before we move on to the beauty favorites, I have to tell you about this beautiful necklace from Atakcrafts.They are all handmade by Ashley. She has a variety of colors, but I choose the white/grey for Summer and it also has marble beads throughout! (If you saw my February Favorites, you know I LOVE marble.) It is a piece that can be worn with so much!
Beauty Favorites:
This Giorgio Armani foundation is AMAZING. For years now I have heard Jaclyn Hill rave about it, but I couldn't get past the price tag. My friend, Tara, is a Sephora VIBRouge Memberand they were running a special where you bring a friend and they get 15% off, this caught my eye right when I walked in. I love this foundation! It covers well, without feeling "cakey." It smells good and the bottle is pretty generous. I have combination skin and it worked great for me. I recommend talking to the Sephora makeup consultant and see if this is good match for your skin type.
I can now add Nars Radiant Creamy Concealer to my list of favorite concealers.It covers very well andIhaven't noticed any creasing under my eyes. I will say it is a thicker than my other concealers, so the first couple times I used too much and it took me awhile to blend it out.
I got a sample of the Benefit Roller Lash from Ulta during my birthday month and I was on the fence at first, but I love it now! It takes me a couple weeks to get used to a new mascara and I will definitely purchase this when I run out of the sample. My lashes look so long & full when I wear it and it doesn't irritate my overly sensitive eyes.
I will go on record to say, THIS IS THE BEST CANDLE YOU WILL EVER OWN. No joke. My whole family uses this candle and its our go-to gift for friends & hostesses. It smells amazing and you only have to burn it for a short period of time, because it smells up the entire house. I buy these at a local boutique , but I also found them online for you here.(If you are in the Spring/The Woodlands area in TX you can buy these at Thad's in Old Town Spring or at The Blue Finch in Magnolia.)
Thank y'all so much for stopping by! Tell me about some of your favorite things. What beauty products, candles, or style trends have you been loving?