Friendsgiving
Happy Friendsgiving and Thanksgiving! This is the biggest recap post we have EVER done! ( Also, the most stressful and fun haha!) If you follow us on Instagram, then you have probably seen our sneak peak pictures all month long showing the Friendsgiving we recently hosted for 23 people ( see why I said it was a little stressful?! LOL) Anyways, we wanted to recap the entire Friendsgiving everything from our décor down to the dessert. We hope you enjoy it and that you all have a Happy Thanksgiving!
Tablescape:
Since my table is dark, I choose to go with white plates and white napkins to brighten it up. I kept everything very simple and then the centerpiece was the focal point. I hollowed out a pumpkin, put a cup inside with water, and added the flowers. ( We did a similar post on this here.) The pumpkin centerpiece will last for a couple days! I was so impressed with the quality of the flowers from HEB. They were just beautiful!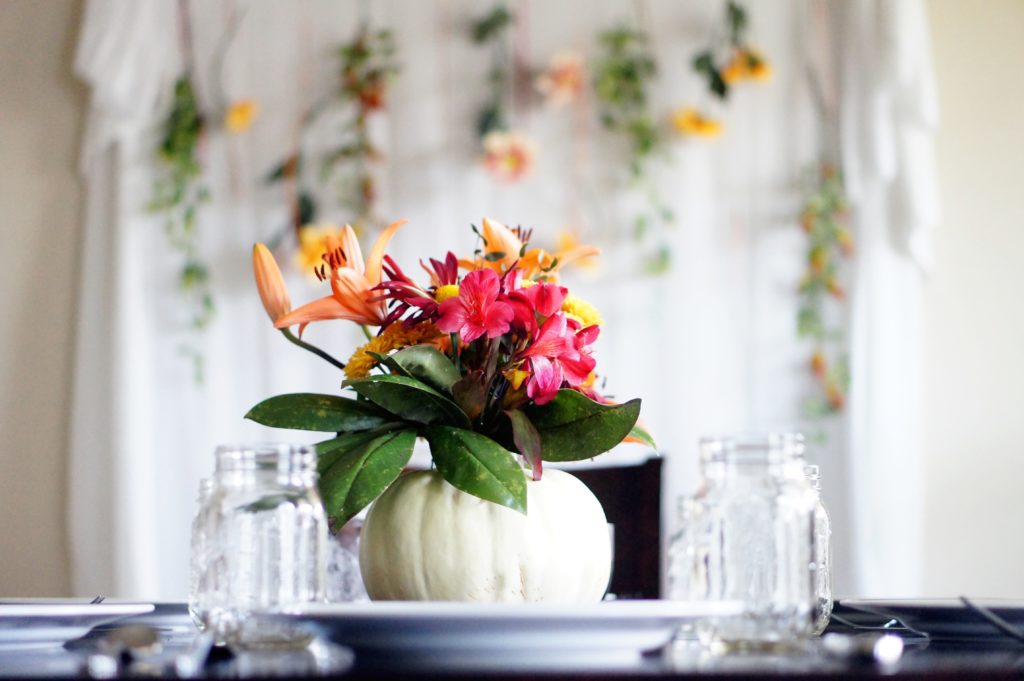 The menu cards were from Minted and were a huge hit! All of the guests loved them. Iplaced them on top of the napkins at each person's plate. This was my first time to use menu cards and will not be the last. They would be so cute at Christmas dinner parties also!
Tablescape & Entertaining:
Friendsgiving Outfit:
I shared my Friendsgiving outfit last month from Francesca's. I got so many compliments on this dress! It has definitely been my most worn dress this Fall. I can't wait to share with y'all the dress I just got from there for Christmas!
Photography: Dede Raad / Hair & Makeup: The Bronze Body
Invitations:
We also decided to get a little fancy this year and actually send invites for Friendsgiving! These were also from Minted. My favorite part was that you got to choose what color or "flavor" of pie you wanted on the invite. They also have adorable invitations and Christmas cards to choose from too!
Side Dish:Twice Baked Loaded Sweet Potatoes
We partnered with HEB and whipped up these Twice Baked Loaded Sweet Potatoes and OH BOY were they amazing!They are afresh take on a classic Thanksgiving dish. Twice baked sweet potatoes are mixed with brown sugar, honey, cinnamon, nutmeg and then topped with perfectly browned marshmallows.
Photo Booth Backdrop with Polaroid:
Every event is more fun with a photo booth and props! We partnered with Polaroid to show you the simplest DIY photo booth backdrop for Thanksgiving & show you how to use the polaroid zip instant mobile printer to quickly print out the pictures and put them into a thank you envelopefor our guests to take home that night.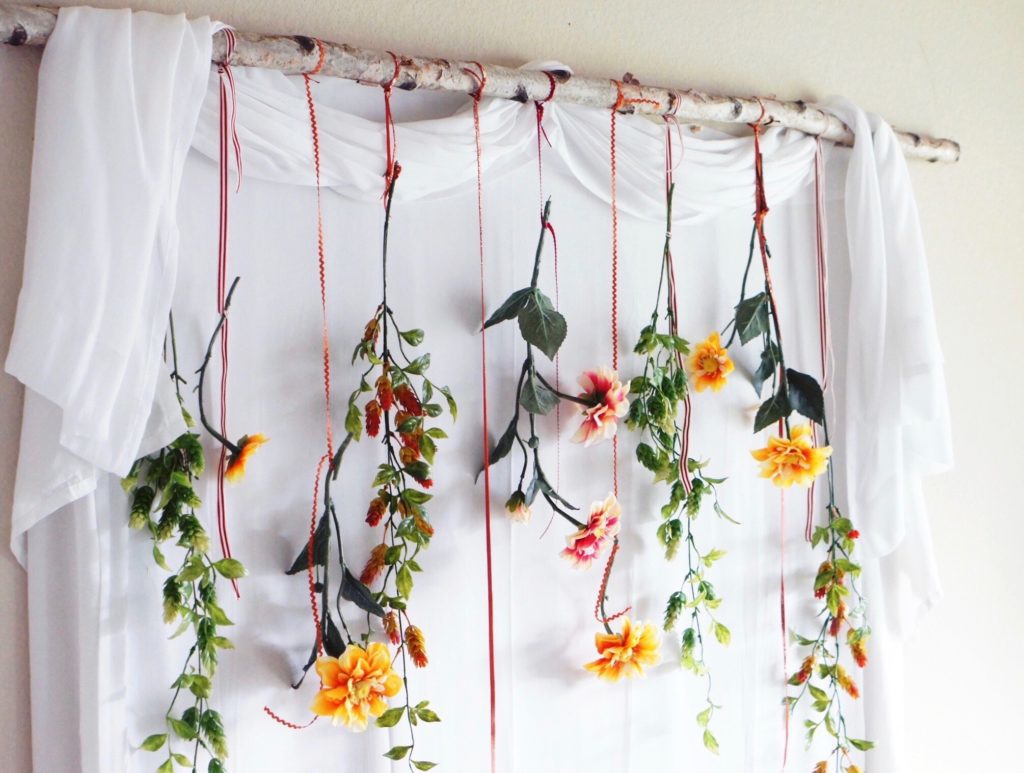 DIY Flower Crown:
Flower crowns have been SO popular this year. So, you know we just HAD to makea DIY Flower Crown as a prop for our Friendsgiving photo booth.Although, once I put it on and realized how perfectly it matched my outfit… I may have just worn itfor the rest of Friendsgiving! I couldn't help it, flower crowns are so fun! It was so easy to make and is perfect for a photo booth at any event.
Dessert:Maple Pecan Pie Bars
John out did himself on these Maple Pecan Pie Bars recipe with HEB.The pictures honestly don't do it justice, you will definitely want to add this to your Thanksgiving and Christmas menu's this year!
Yesterday was our official 1 year blogsversary and as we reflect on this last year, we are overwhelmingly thankful and blessed for all of you. OMT wouldn't be possible without you! John and I have learned SO much this year and have met so many amazing people through blogging. We can't wait to see what year 2 has in store. Thank you for support and have a Happy Thanksgiving!
We were so thrilled to have had the opportunity to work with so many amazing companies on this post! Thank you Francesca's, HEB, Minted, and Polaroid. As always, opinions are 100% our own.