DIY Ombre Giant Jenga
I love games, doesn't matter what kind: board game, video game, card game, or especially backyard games. I love them all and I think part of the reason is, because most of the games I like to play involve people and hanging out. I won't talk about the competitive side, but just FYI – Lindz is super competitive, like trade her grandma for Park Place if it means winning Monopoly kind of competitive lol. Now the trend with backyard games seems to be to take older classic games and make them giant. And in the words of the amazing Phil Dunphy " I'm hip, I surf the web, I text: LOL – Laugh Out Loud, OMG – Oh My God, WTF – Why The Face", so being the trendy peeps that we are, we made ourselves a giant jenga set and put a little OMT twist on it by painting it ombre. It just adds a little flair, you know not crazy flair, but just enough to be more than the minimum amount of flair (Looking at you Jennifer Aniston.)
DIY Giant Ombre Jenga
Supplies:
2×3 common boards
circular saw
measuring tape
electric sander or sanding block
paints
paint brushes
Directions:
Step 1: Make marks on your 2×3 every 7 1/2 inches.
Step 2: Using the circular saw cut all of the blocks. You will need 45 of these blocks.
Step 3: Sand all of your blocks and prepare them for paint.
Step 4: Section all the blocks into 5 groups with 9 blocks each. Paint each group a different color of the ombre them of your choice and let dry.
TIP: I found that if you just choose 3 colors (bottom, middle, and top), then the "in-between" colors can just be a blend of the two around it. It will help you get the perfect fade color.
Example:
Section 1 – a "White"
Section 2 – ab mix
Section 3 – b "Teal"
Section 4 – bc mix
Section 5 – c "Dark Blue"
Man I hope that makes sense haha.
And that's it, a very simple project that will be a great outdoor game this summer with friends and family and also be a colorful backyard decoration piece. Our backyard is under construction with a few projects that we will hopefully get to showcase soon but until then we took the giant jenga to the color wall in Houston for a little photoshoot. Any giant backyard games that are your favorites? Let us know in the comments below.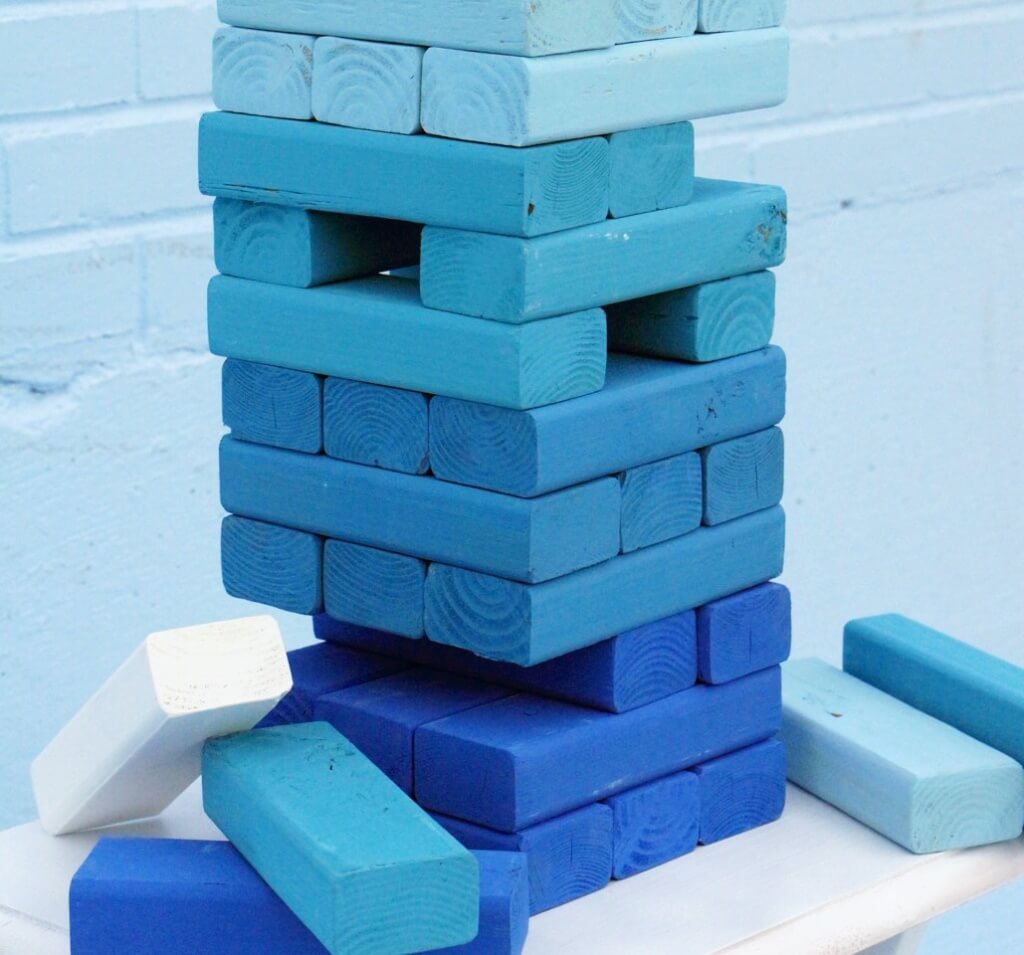 I know your dying to ask but a gentleman never beats his wife in a game and then tells all his friends on the internet. So until next time and as always, thanks for stopping by! Show us your projects by using #omtcrafts!
***Small disclaimer***
***All claims of victory may or may not be fictional depending on who you ask or how upset said people or persons may be at the retelling of said story.