Philanthropy
Hey Y'all! Hope you all had a great weekend. I feel like John and I did ALL the things this weekend! (Anyone else have a crazy productive weekend?!) After cleaning, organizing, meal prepping, and shooting two new projects for the blog – we somehow even had time to swing into our new favorite store, Philanthropy, over in Market Street – The Woodlands. If you live in The Woods, you gotta go check it out!
Philanthropy
The moment I stepped into this store I knew it was different and it had nothing to do with the decor, even though that is spectacular too! The difference is the two amazing owners, Jackie and Christine and the culture that have created there.. Within 2 seconds of being in the store John and I were greeted by a welcoming "Hey! How are yall today? I'm Jackie." as he extended his hand for a handshake. When the heck does that happen? lol. He then proceeded to tell the story of Philanthropy as he personally showed us around. Then he said, "You want to see my favorite part?" As I thought, probably gonna be some section about cool mancave home decor ( for John) or a specific area for his favorite product. Nope. Not even close. It was a space in the middle of the store that didn't have anything for you to buy, called The Chapel. In this space you can write out your prayer request and hang them to the prayer wall. The truly amazing part, is that the staff prays for them every day. EVERYDAY! And that people can even take one home to pray for it if they feel lead too. Y'all, this blew me away! The wall was completely full of people who had written prayer requests and it was just a visual reminder of all the people in my town that are asking for prayer and praising the Lord.
In a noisy retail world that is looking to take as much as it can from its customers, this store and it's ownership stand out because they choose to give back 10% to charity. What a concept! They also have the cutest t-shirts that 100% of each t-shirt go to a specific charity as well.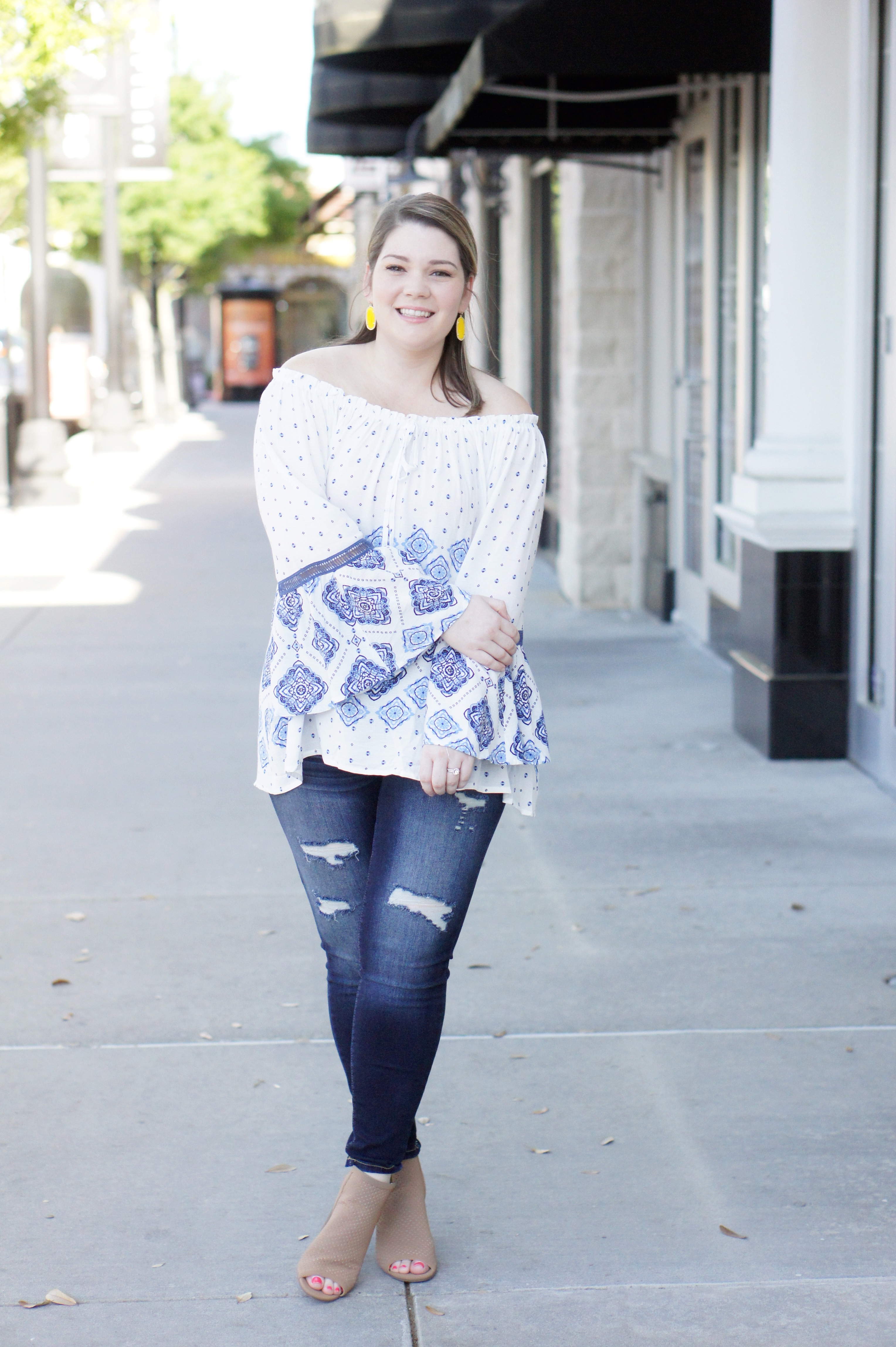 Okay, besides all that amazingness, they also have super cute home decor, nicknacks, devotionals and clothes! I got this blue and white top off the shoulder top that is so soft and lightweight for Spring! I couldn't find on the website, but here is another one that is similar. I also picked up a couple unique home decor items that I will share with y'all soon!
I hope y'all all have a great week! If you stop into Philathrophy, let me know what you think of it! And if you want to know more about Jackie and Christine and their story, their is a bio page on the website.
Thanks for stopping by!
Thank you to Market Street – The Woodlands for sponsoring this post! Opinions are always 100% my own.