Mini Sombrero Dippers
Taco Tuesday just got a whole lot better! These festive Mini Sombrero Dippers make the cutest appetizer for your next taco night!
Mini Sombrero Dippers
I am a big fan of wonton cups! They are so crispy and are basically a mini version of a queso bowl from any Mexican restaurant. The wonton cups are very easy to make. You simply take them out of the package and layer two of them on top of each other and form them in a muffin pan and bake for 12-15min depending on desired crispiness. If you are visual (like me), we recently shared a recipe that shows you exactly how to make the wonton cups!
While the wonton cups are baking, you can start cutting your sombreros. We bought the mini sombreros at Party City. All you have to do, is cut the top of the sombrero off. I cut all the way down to the top of the design. If your wonton cup is too large to fit in the top of the sombrero, you can make a small cut down each side and it will make it easier for the cup to fit inside of the sombrero.
Once you have your wonton cups ready – then fill your cups with queso, salsa, and/or guacamole. Load up the outside of the sombrero with tortilla chips. (Best part of these is that no one can get mad at you for double dipping & you can eat the cup afterward!)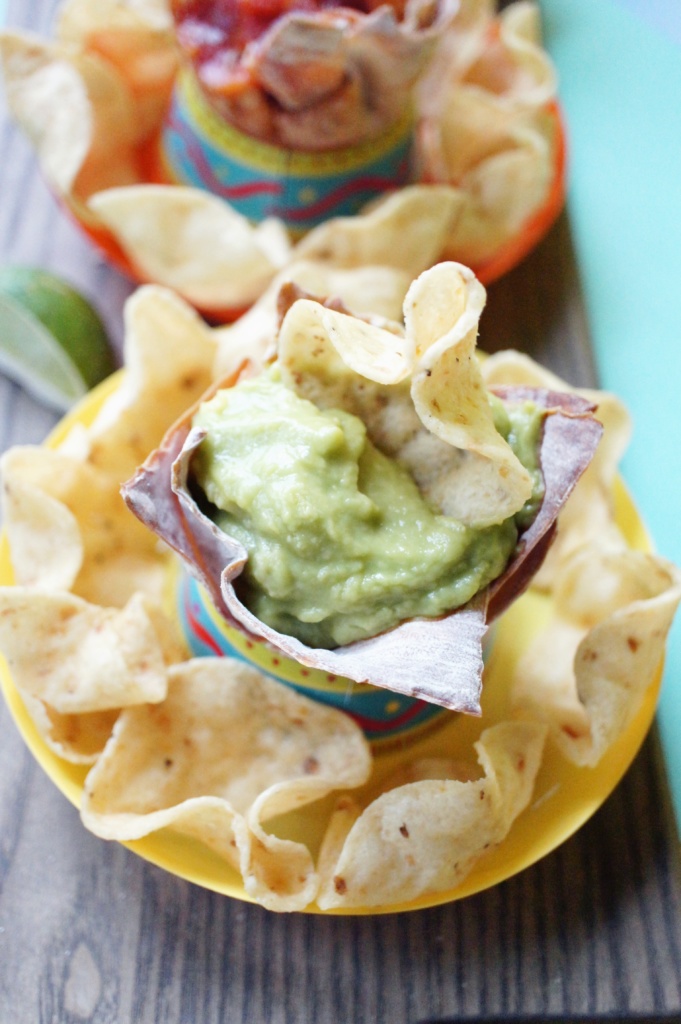 We used store bought salsa, but the queso and guacamole were made fresh. They are both really simple as well. For the queso we just added a whole block of Velveeta cheese, 16oz of Mild Ro-tel, and cooked ground beef in a crock pot and let it sit for 30 minutes or until fully melted, stirring occasionally.
For the guacamole, mix four avocados with chopped tomatoes, onions, and cilantro. Add a little salt and lime juice to taste and you are all set my friends!
These would be so cute at your next dinner party! If you make them use #OMTfoodie, so we can follow along!
Thank you for stopping by!