Spray Painted Pineapple Centerpieces
Pineapples seem to be a hot trend this Summer! But what happens when you are tired of the same old dull yellow color?! You spray them whatever color you want!! These spray painted pineapple centerpieces are so bright and colorful! They are tropical and perfect to decorate for a Summer party.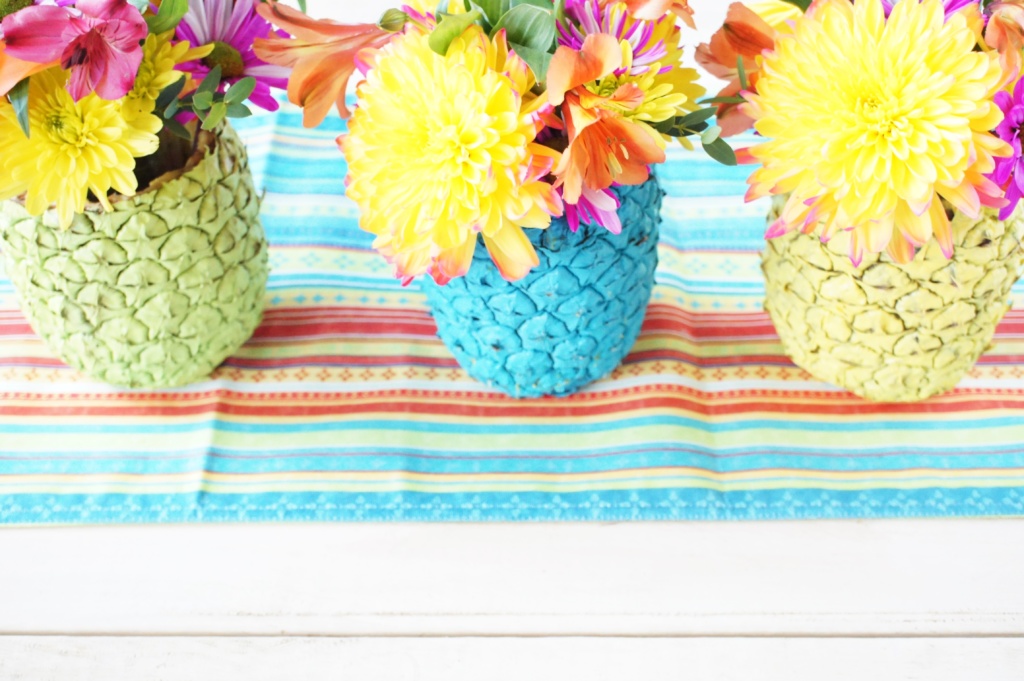 You probably have noticed, if you have read some of our other blog posts, that we like to make things as simple as possible. Life is so crazy busy, so I don't need to spend hours on a centerpiece! I needed something that was cute, affordable, QUICK, and tropical! I picked up these pineapples and knew they would be super cute centerpieces, but John took my idea to the next level when he came up with the idea to spray paint them bright colors! ( That's one thing that is great about blogging together. When we combine our ideas, the project always turns out 1000x better!)
Spray Painted Pineapple Centerpieces
Choose your spray paint colors and spray paint the pineapples first. We choose lime green, yellow, and a bright blue spray paint, because it matched our plates and table runner perfectly! Then we hollowed out the pineapple. We put the clear plastic cups inside of the pineapple and filled them with water for the flowers. (You can cut the tops off the cups if they need to be shorter. For our centerpieces, you didn't notice the cups because the flowers hid the edge of the cup.) Then pick out your favorite Summer flowers!
Aren't these bright colors beautiful? I love the way these centerpieces turned out. Below are a couple pictures of the full tablescape!
Don't these colors just scream tropical vacation? If you didn't get to go anywhere tropical this Summer at least your house can feel like one! John and I just finished our last trip of the Summer ( he travels a lot for work this time of the year.) So now the rest of my summer will be relaxing by the pool a bit in the upcoming weekends and hopefully getting caught up on some TV shows!
Thanks so much for stopping by!