8 Tips for Hosting a Bridal Shower
This is an extra special post to me, because my dear friend is getting married this weekend! I teamed up with the other bridesmaids and we hosted a beautiful, bridal shower brunch. Here are my top eight tips for hosting a bridal shower!
Tips For Hosting a Bridal Shower
1. Chalkboard Welcome Sign
A welcome sign is awesome! It helps guests know they are in the right place and you can include the wedding hashtag, so that when guests take pictures – the bride can find them later on Instagram and Facebook.
2. Guest Sign-in Table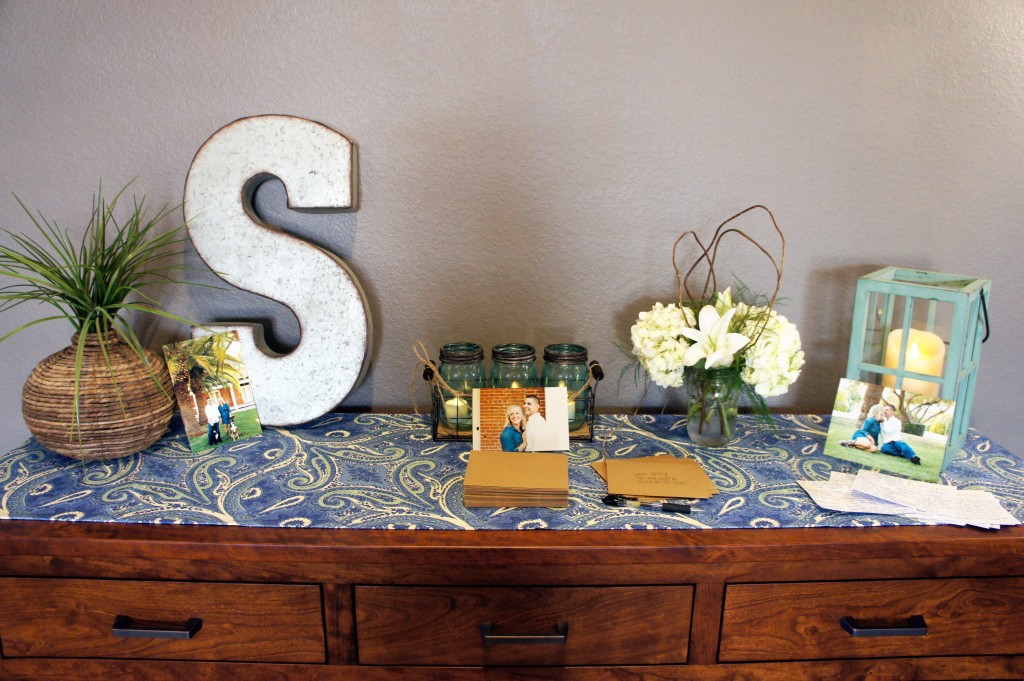 The guest sign-in is the perfect place to:
Add pictures of the bride and groom
Decorate with a Centerpiece and/ or Letter of bride's new last name 🙂
Have guests write out Words of Wisdom for the bride and groom
Have each guest write their name and address on an envelope (this saves the bride time on addressing thank you cards after the shower!)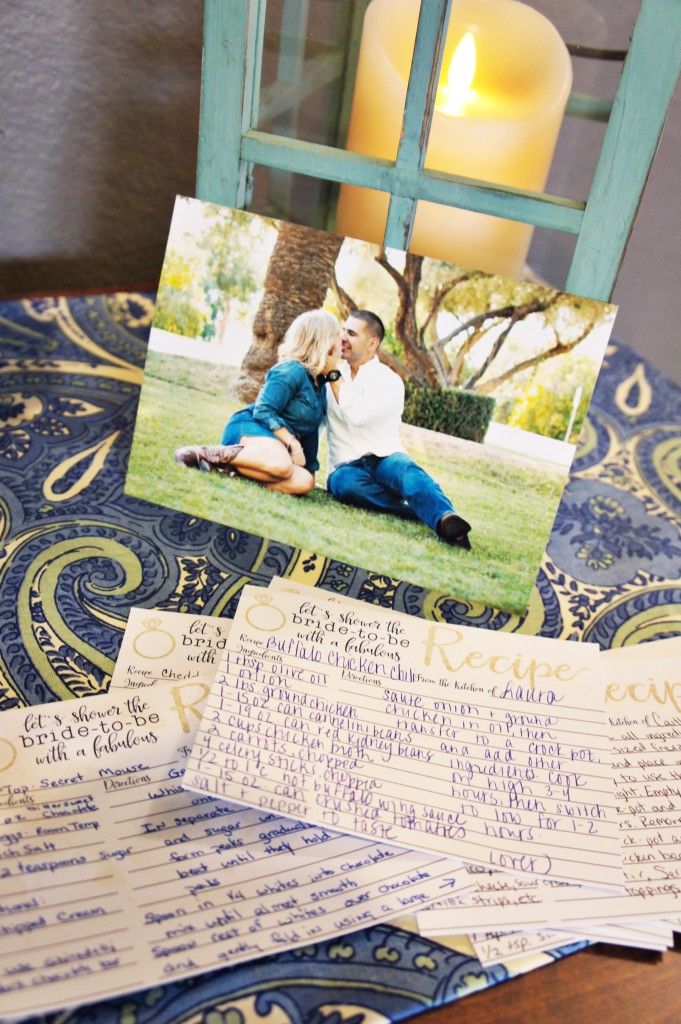 Include a recipe card with the invitation for the guest to bring with them to the shower. This is fun and something she can keep forever. (I still have the recipes from my shower and use them all the time!)
3. Simple Centerpieces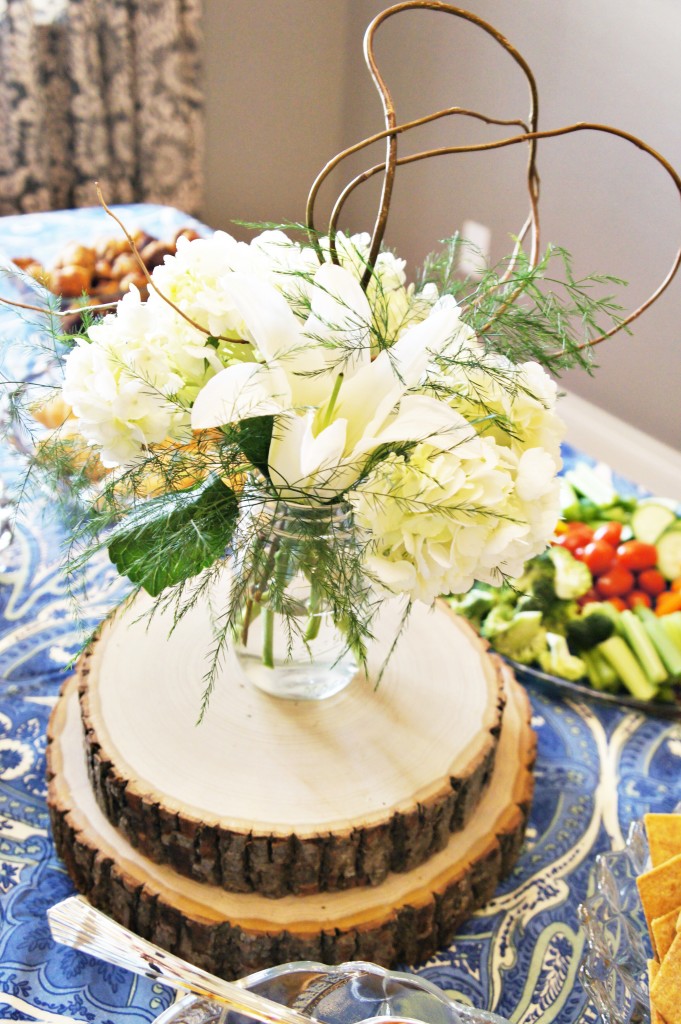 I made these simple centerpieces using a mason jar, one white lily, two white hydrangeas and greenery. I didn't spend a ton. These flowers were ordered from HEB ( grocery store) and the curly willow was cut from my Mom's back yard. I was so excited when I walked in and Blair (bridesmaid and host) had stacked the flat wood pieces for the base of the centerpiece – It absolutely made the whole display. You can buy these at Michael's Art Supply or Hobby Lobby.
4. Chalkboard Signs to Label Food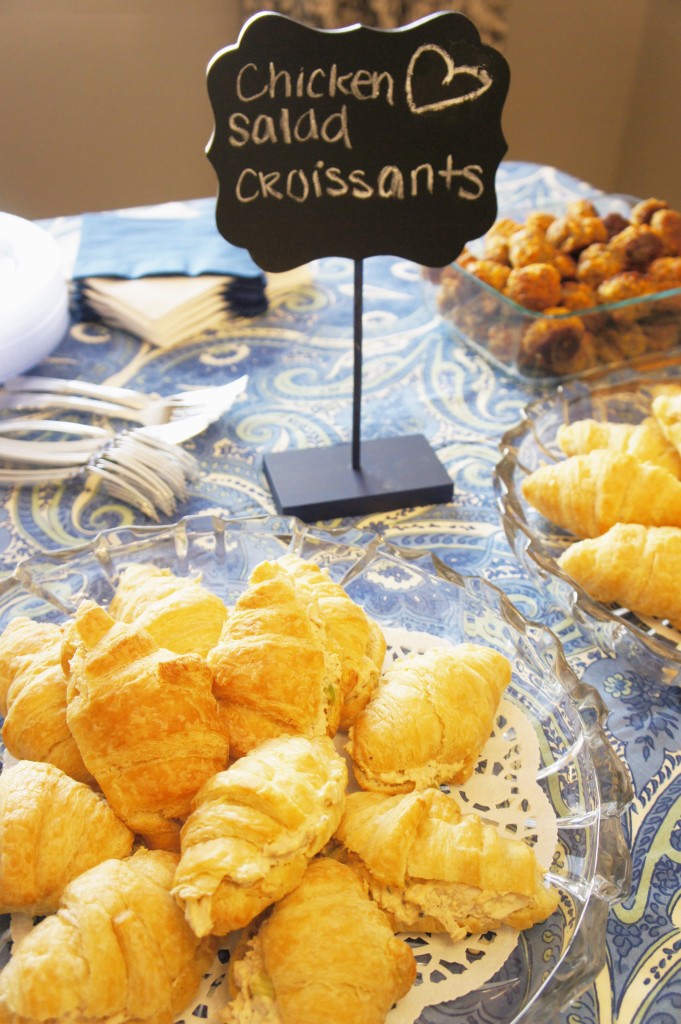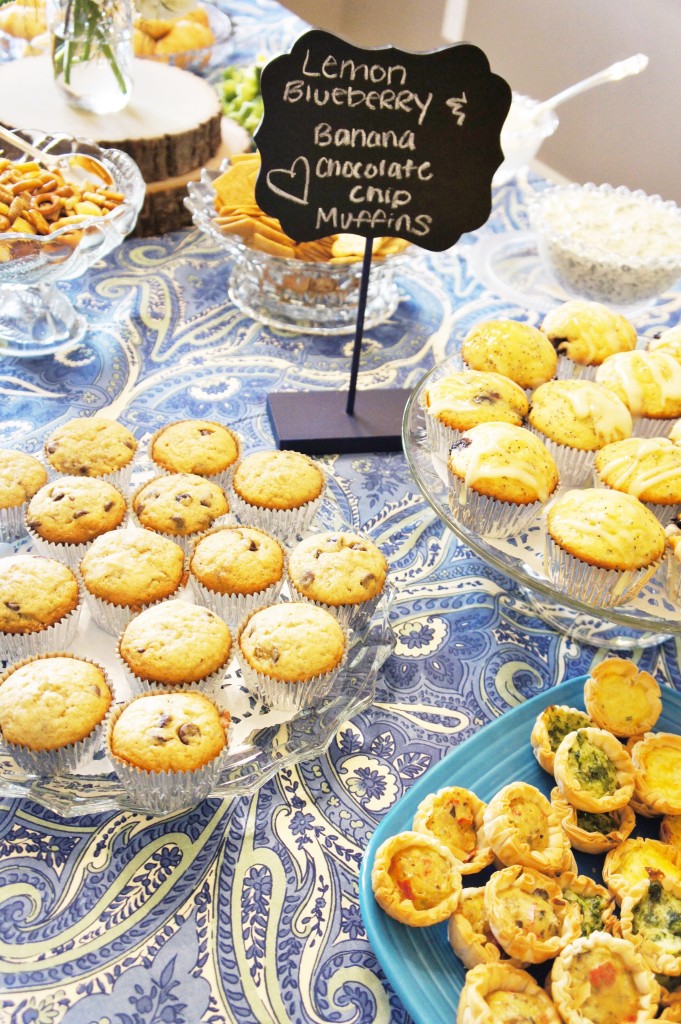 The chalkboard labels are practical and adorable!
More tips for hosting a bridal shower…
5. Mimosa Bar
Mimosa bars are the big thing right now! All you need are some fun straws, fruit, champagne, and several different juices.
6. Mason Jars & Gift Tags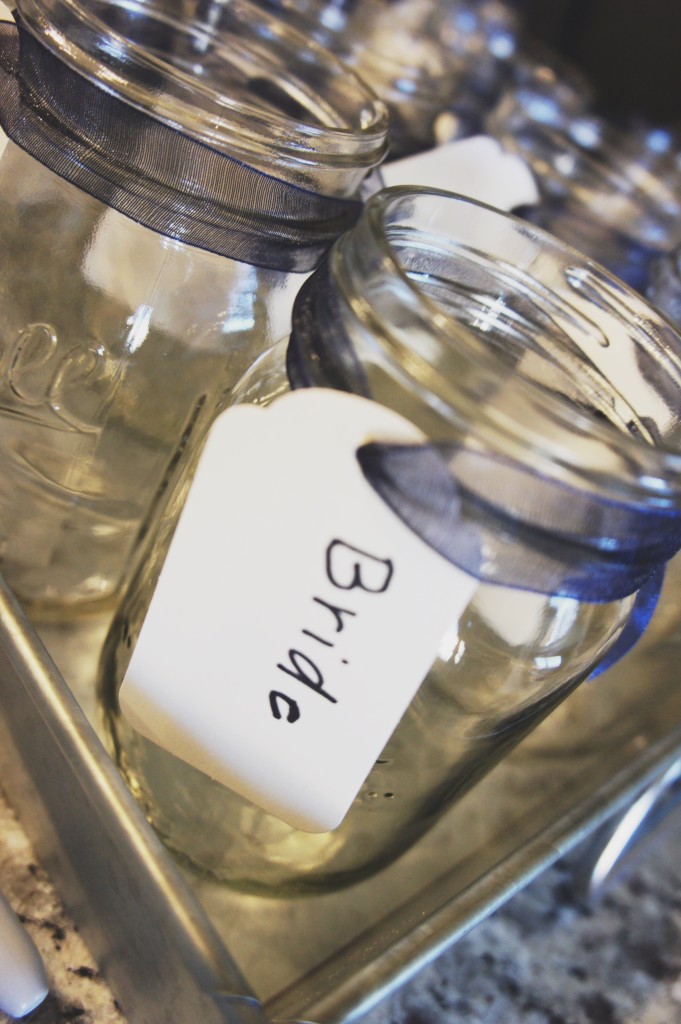 I went ahead and invested in a ton of mason jars. They are super cheap and can be used for SO many things. I especially love using them for drinks at parties. My go-to "name tag" (so people can keep track of their drinks!) is to buy a pack of cream gift tags. These tags were less than $2 for over 20 tags. I cut the string off of the gift tag and used scissors to widen the hole just a little. Then used navy ribbon and tied on the glass. Navy is the bride's wedding colors, so you can choose what ever ribbon color you want. I also have used twine and it turned out really cute.
7. Designate a spot for Gifts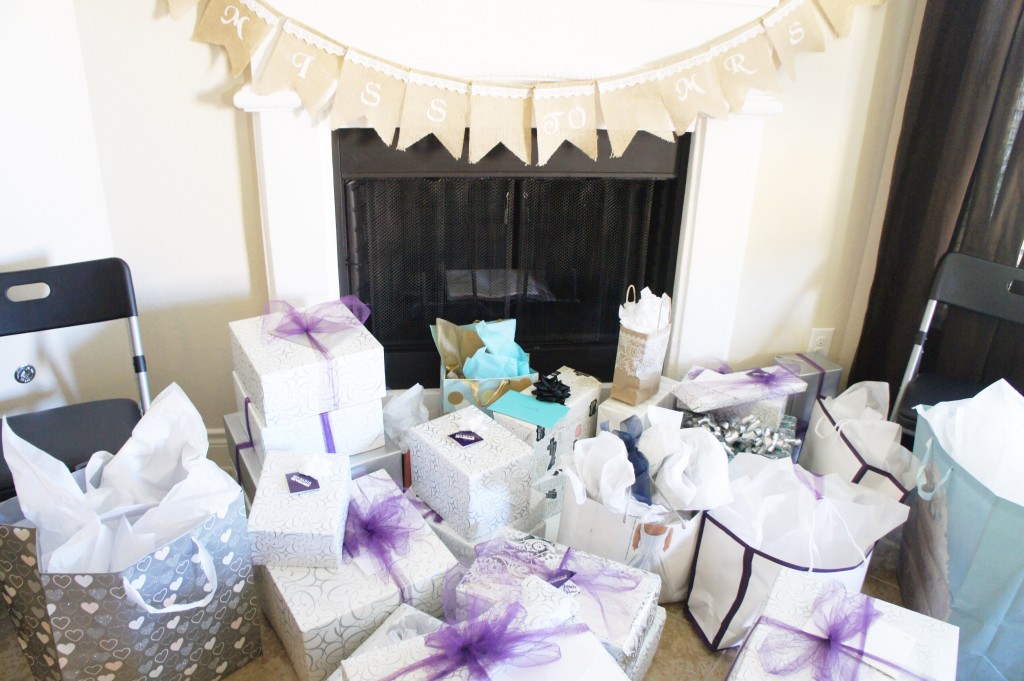 You could tell Blair has done this before! She had a designated gift area all set up. People knew exactly where to set their gifts. She even had an adorable burlap sign that said "Miss to Mrs" hanging on the mantle.
8. Bridesmaid Tasks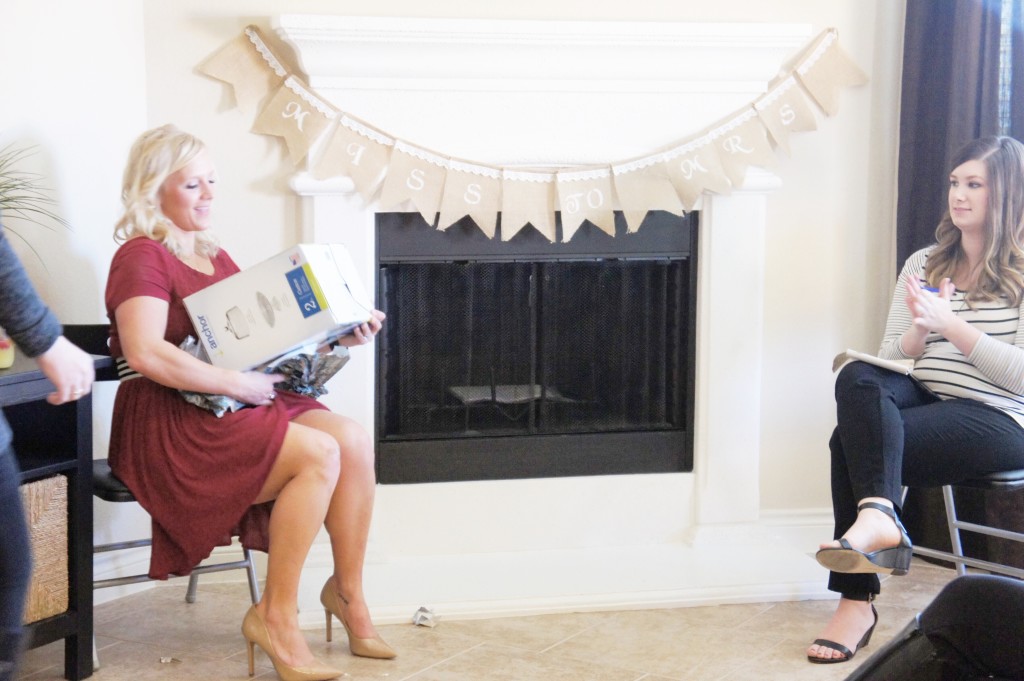 Set uptwochairs: One for the bride and the other for the bridesmaid who is in charge of writing down all the gifts received and who they are from. Don't forget pen/paper 🙂
Have severaltrash bags available and put another bridesmaid in charge of gathering all the trash and moving the gifts out of the way when the bride is done opening them.
Put someonein charge of taking photos while Bride is opening gifts.
8. Shower Favors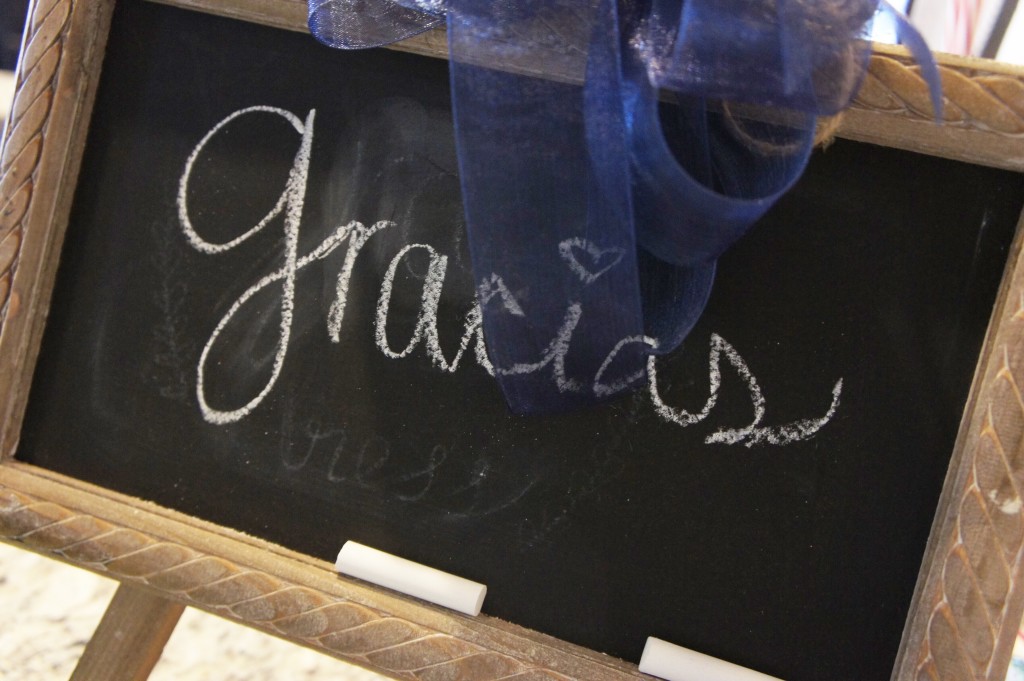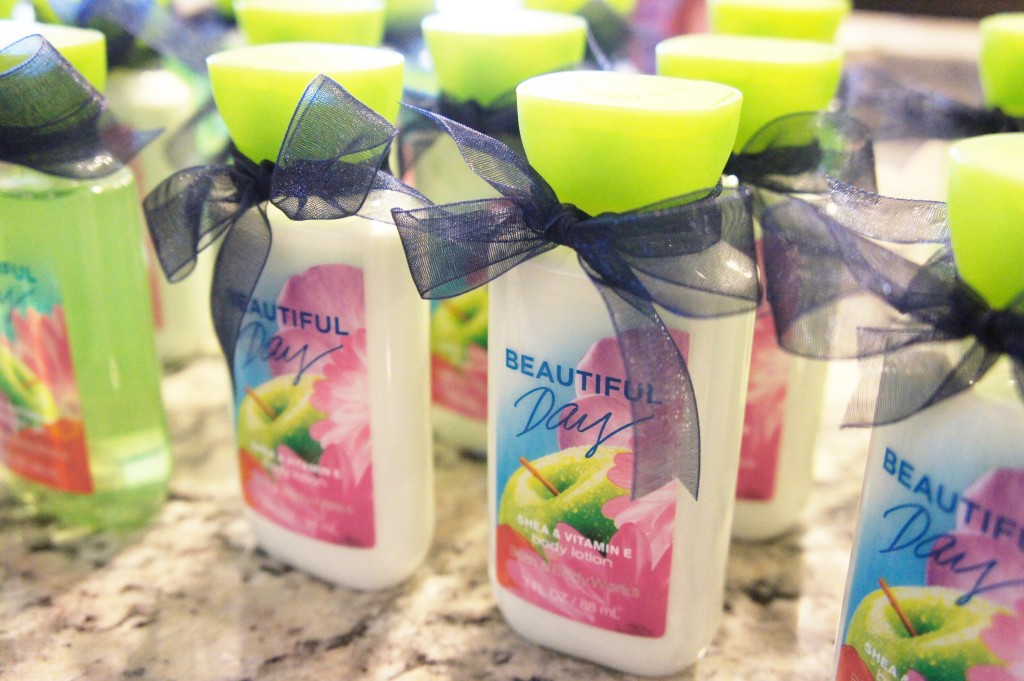 I can't even stress how SIMPLE these favors were. We choose the scent Beautiful Day ( thought it was cute for a wedding shower & it smells amazing!) I got all of these so cheap when Bath & Body was having their huge sales around Christmas. I got half lotion and half shower gels to give people options. Then just tied it with navy ribbon, since those are the wedding colors.
And that's a wrap! Group shot of the Bride and her maids (Left: Ashley, Blair, Bride- Jennifer, Me!) These girls sure know how to throw a bridal brunch!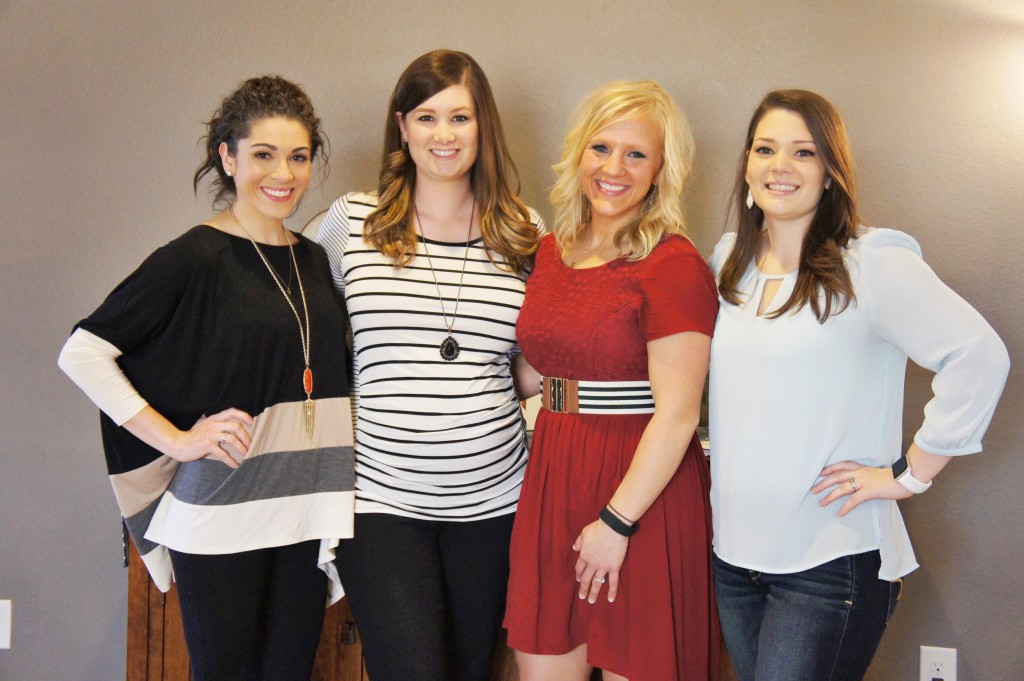 Gotta give credit: Ashley went all out on the cupcakes and cookies. Blair hosted at her house and went above and beyond with all the delicious food and decor in the pictures above. & We couldn't have done it without Brooke and Katie ( who were unable to be there that day, but contributed all the Champagne & shower invitations!)
It was a beautiful shower and we all got to celebrate and toast to the future Mrs. Salinas!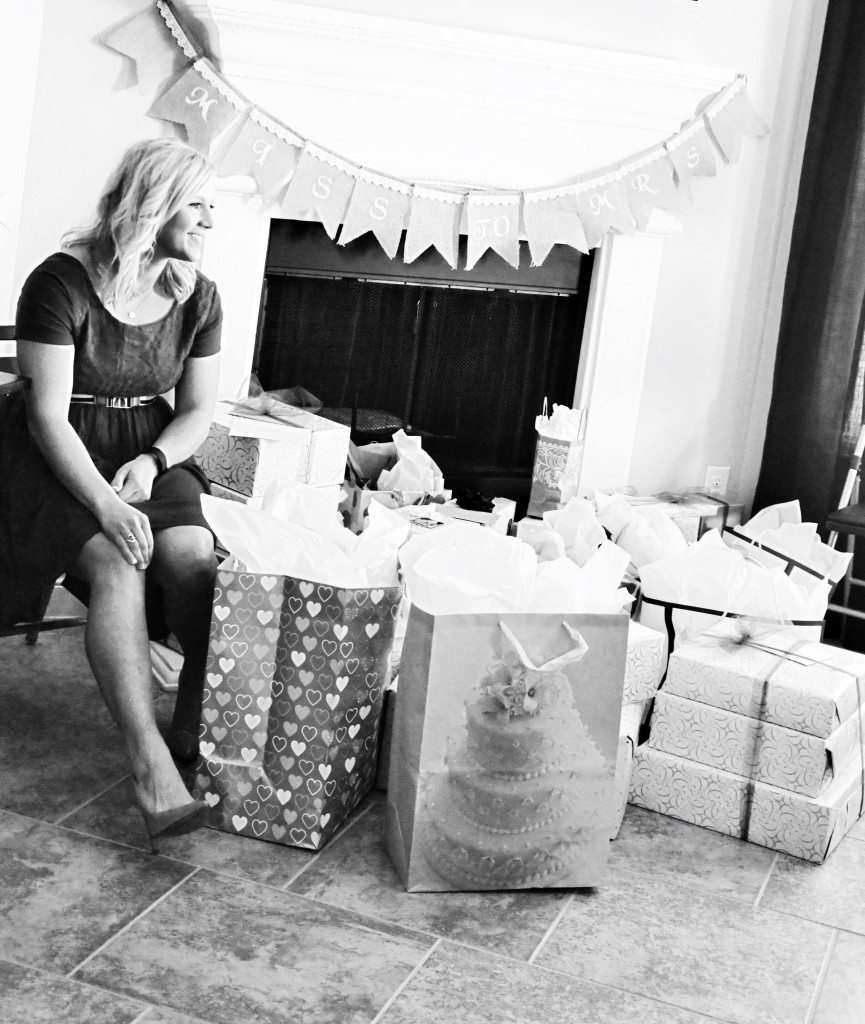 Thank you so much for stopping by! I hope these tips for hosting a bridal shower will help you if you are planning to host a shower or party!
I'd love to know any of your shower planning tips! Comment below 🙂
Lindsey