New York Strip with Melted Blue Cheese Butter
This shop has been compensated by Collective Bias, Inc. and its advertiser. All opinions are mine alone. #Sharewine #CollectiveBias The following content is intended for readers who are 21 or older.
For the last five Summers John and I have vacationed in Gruene, TX. We LOVE it there. Gruene has become our favorite place to getaway. While we are there our go-to place to eat is the Husiache Grill. They have the most amazing steak topped with melted blue cheese butter that is served with crispy potatoes and we add a glass of red wine. This year we did not make it out to Gruene and we missed out on that delicious meal, which led us to create our own version of that meal for a Steak & Wine Date Night! We also thought this would be a fun way to share one of our favorite meals with all of you guys! Hope you enjoy this delicious recipe for a New York Strip with Melted Blue Cheese Butter!
New York Strip with Melted Blue Cheese Butter
While John cooked ( yes, he does almost all of the cooking! Thank goodness!) I was in charge of picking out the wine and setting the table ( I know, I got the better end of that deal! hah!) It has been raining so much lately in Houston that the weather was much cooler than normal, so we took advantage of it and had dinner outside.
For wine I chose Mark West, a Burgundian styled California Pinot Noir. Not only, does this wine pair perfectly with the flavors of the New York Strip, but it also is pre-filled in single serve recyclable glasses that click together to form one bottle of wine; which is perfect to enjoy outside! Honestly, this is going to be my go-to wine now for entertaining or to take to outside events. I love that it allows you to enjoy a glass, without having to open the entire bottle at one time and there is no hassle!
This is such an easy recipe for grilling steak. It turned out so tender and juicy! (This was before we added the blue cheese butter.) John also prepared crispy red potatoes and sautéed zucchini and squash.
See how the wine just clicks and stacks together?! It is beyond convenient and so perfect for a date night that is outside. For more entertaining ideas check out Entertain And Pair Social Hub!
John topped off the New York Strip with blue cheese butter. It adds a creamy and rich flavor to this meal.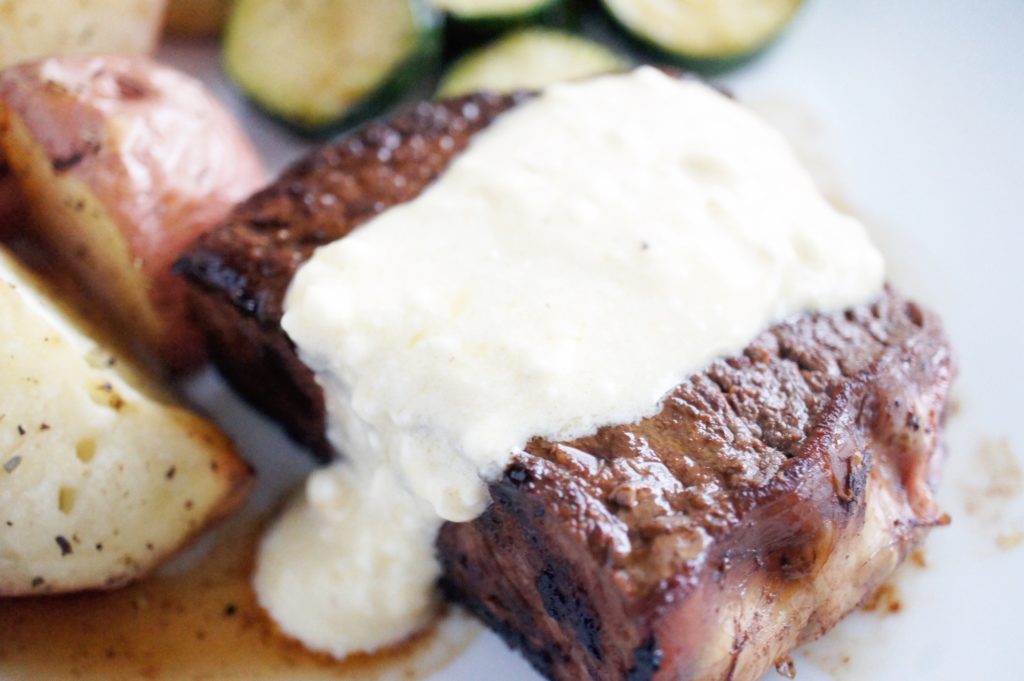 Cheers! See the recipe card below with all the instructions on how to cook the steak, blue cheese butter, veggies, and the potatoes. I marinade the steak in Allegro Original Marinade, 12.7 oz
, which for our Texas friends can also be found at HEB.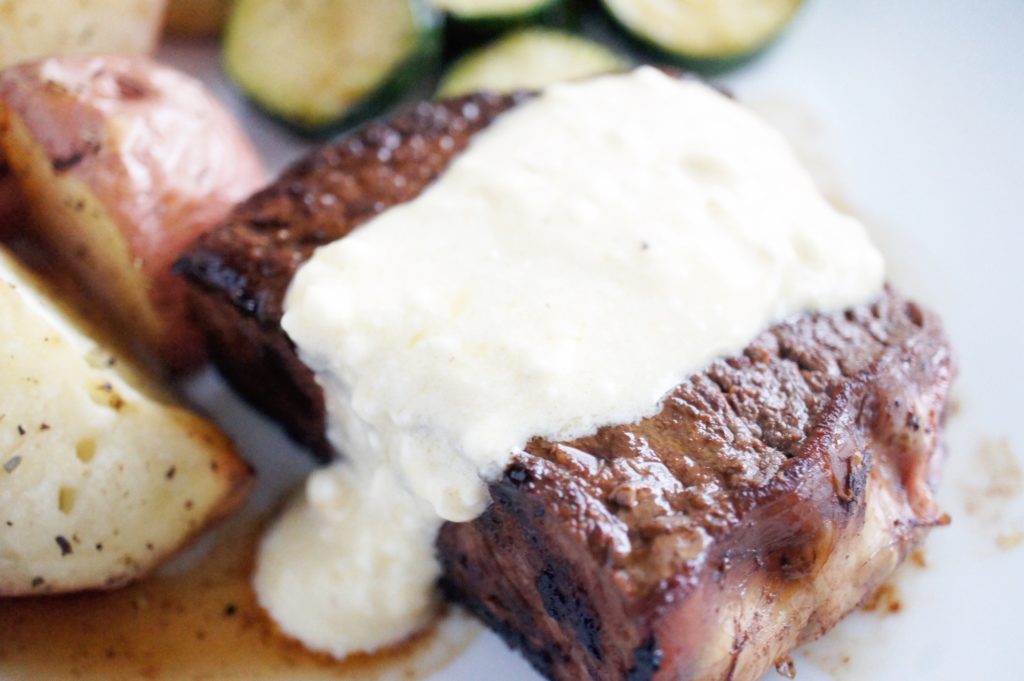 Steak and Wine Date Night
2016-08-21 23:41:43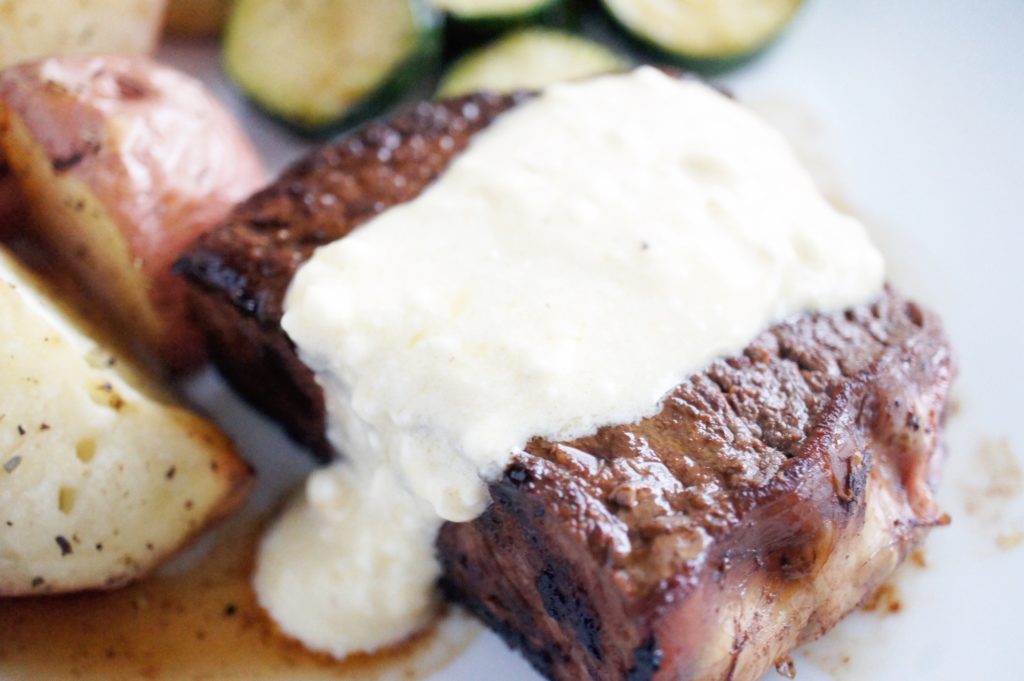 Tender Steak topped with a melted blue cheese butter, served with crispy new potatoes and sautéed vegetables.
Nutrition Facts
Amount Per Serving
* Percent Daily Values are based on a 2,000 calorie diet. Your Daily Values may be higher or lower depending on your calorie needs.
Ingredients
10oz New York Strip Steak
1/4 cup Blue Cheese Crumbles
1/4 cup Butter
1 lb New Potatoes
2 Zucchini
2 Squash
4 tbsp Extra Virgin Olive Oil (EVOO)
Salt and Pepper
Steak Marinade
For the Potatoes
Preheat oven to 425
Cut up potatoes into quarters
Place in bowl and add 2 tbsp EVOO and the salt and pepper and then toss thoroughly
Place in oven for 30-35 Min, our until they begin to brown and the skin becomes crispy.
Remove from oven and set aside
For the Zucchini and Squash
While potatoes are cooking, Slice veggies and place in a bowl
Toss with 2 tbsp EVOO and salt and pepper
Heat a large skillet over medium heat
Sautee veggies in skillet for 10 min or until they begin to brown
Remove from heat and set aside
For the Steak
Marinade Steak for 20-30 Min.
Heat pan to Medium/High Heat
Add 1 tbsp of butter to the pan right before you add the steak
Season steak with salt and pepper and place in pan cook 5 min on one side then flip and cook and additional 5 min.**
While steak is cooking use a spoon scoop up the butter and glaze the top of the steak.
Remove from pan and let it rest before cutting it.
For the Blue Cheese Butter
Heat a sauce pan on Medium/High heat
Add butter and blue cheese crumbles to the pan
Cook for 4min stirring occasionally
Remove from heat
On a plate combine all of the elements of the meal making sure to top the steak with the blue cheese butter and serve.
Notes
Once the potatoes are in the oven, you should have plenty of time to prepare the other 2 parts of this dish.
Also remember to marinate 30 minutes prior to meal preparation.
** This should get your steak to a Medium Rare temperature so adjust your cooking time to how your like your steak prepared.
Adapted from The Huisache Grill
Adapted from The Huisache Grill
Our Messy Table http://www.ourmessytable.com/
So funny side note, we wanted to add candles for a little "romantic flair," but all of the candles we own are scented candles – which doesn't work well when eating dinner outside. Instead John downloaded a candle app on the iPad and set it up on the table outside. It worked perfectly and the app uses the microphone so that when you blow into you can actually blow out the candle! haha! It was hiliarous and so cute that John put that much thought into it!
As always thanks for stopping by our little corner of the interwebs and we hope that you enjoy one of our favorite meals for date night!
Keep it messy y'all!