Picnic with Packit
Hey y'all! John and I just got back from Europe and we are SO, SO glad to be blogging again! (Finding working wifi in Europe was not always easy and while the break from social media was nice, we are so happy to not have to have to scramble to find wifi or pay to use a restroom (seriously! I didn't even know that was a thing!) Before we left for vacation, we snuck away for a perfect picnic in the park date. We have been dying to show you the pics and to dish all about our favorite Freezable Picnic Tote from Packit!
Picnic with Packit
Picnics always look so glamorous in the movies, but most of the time, your food is not fresh or cold when you finally get to the park and get settled in. We were BLOWN away by this freezable Picnic Tote, not only is it the cutest pattern ever, but it keeps your food cold for up to 10 hours! And the best part is that is doesn't use freezer packs, the tote itself is the freezer pack. The tote folds up and fits nicely into your freezer and then is cold and ready whenever you need it. So, no need to hassle with ice or ice packs, the walls of the tote freeze to the keep your food and drinks cold. Does it get better than that?!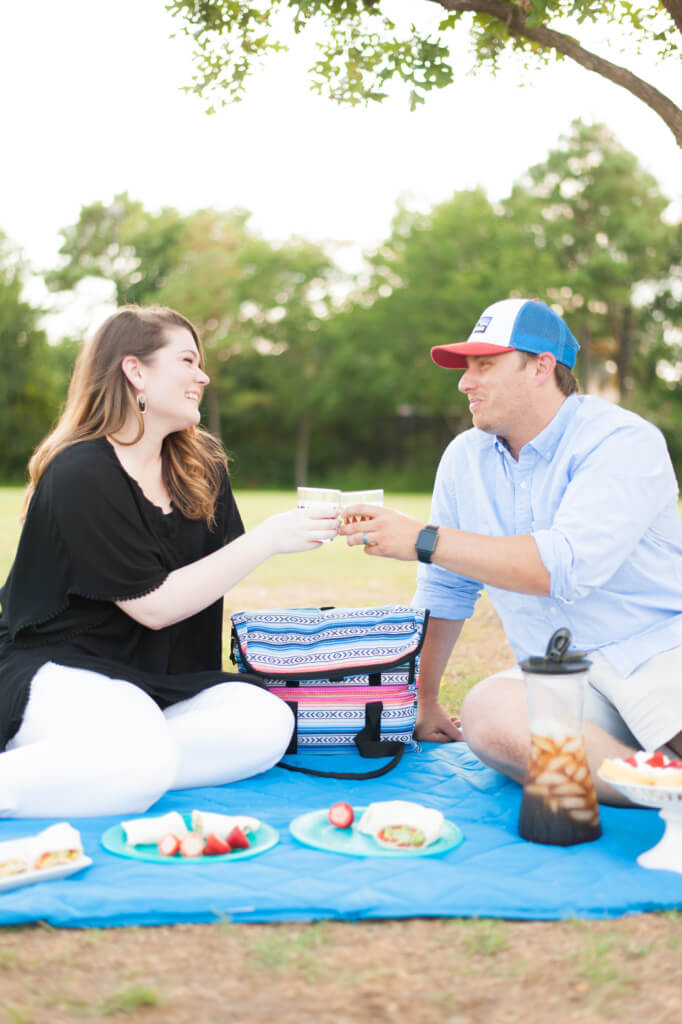 I honestly couldn't believe how much space this tote bag has! The top part unzips and has space for utensils & napkins. Then the lower compartment has space for food and drinks with a back pocket that held our plates perfectly!
It is the perfect size and we plan on taking it everywhere this Summer – to BBQ's, the pool, road trips & even the beach!
We brought champagne and strawberries to celebrate our 6th Wedding Anniversary. This has become a tradition for us, because at on our wedding night, our hotel had champagne and strawberries waiting for us in our suite! We used the Freezable Single Wine Bag to keep the champagne super cold!
Photography by Dede Raad Photography
We love this bag so much. We partnered with Packit and are hosting a giveaway for 2 people to win the same freezable picnic tote we have! Head over to our instagram to enter, the giveaway will end on 7/22/16!
Thank you so much for stopping by!