Card Love
This shop has been compensated by Collective Bias, Inc. and its advertiser. All opinions are mine alone. #papyrusxtaylorswift #CollectiveBias
Remember back in February when I made a 30 Before 30 bucket list?! I made this list and it has been out of sight, out of mind lately…until I was making my normal Target run this weekend. You know the drill, go in for bread and come out with a cartful of stuff! I walked into Target and stumbled across these adorable Taylor Swift inspired cards for Papyrusthat I couldn't pass up, they were exactly what I was looking for to check off #25 off my list!
Card Love
I really want to make it a habit to be intentional about my friendships. We have so many things going on in our lives and as we get older and are juggling families, careers, and responsibilities, our friendships can tend to take a backseat. I want to make time to send some "card love" to my friends, whether it is for encouragement, a thank you note, birthday card, or just a card to let them know they are in my thoughts. I know life will still be crazy busy, but sending cards is just a thoughtful way to let someone else know you care and are thinking about them.
There were SO many choices to choose from with glitter embellishments, cute sayings, and handcrafted accents. My favorite one from the line ( which btw isexclusively sold at Target!) is the "You're the weirdest person I know" card! It is so unique and the minute I saw it, I knew exactly who to send it to and that she would love it just as much as me. I also picked up a couple birthday cards while I was there too!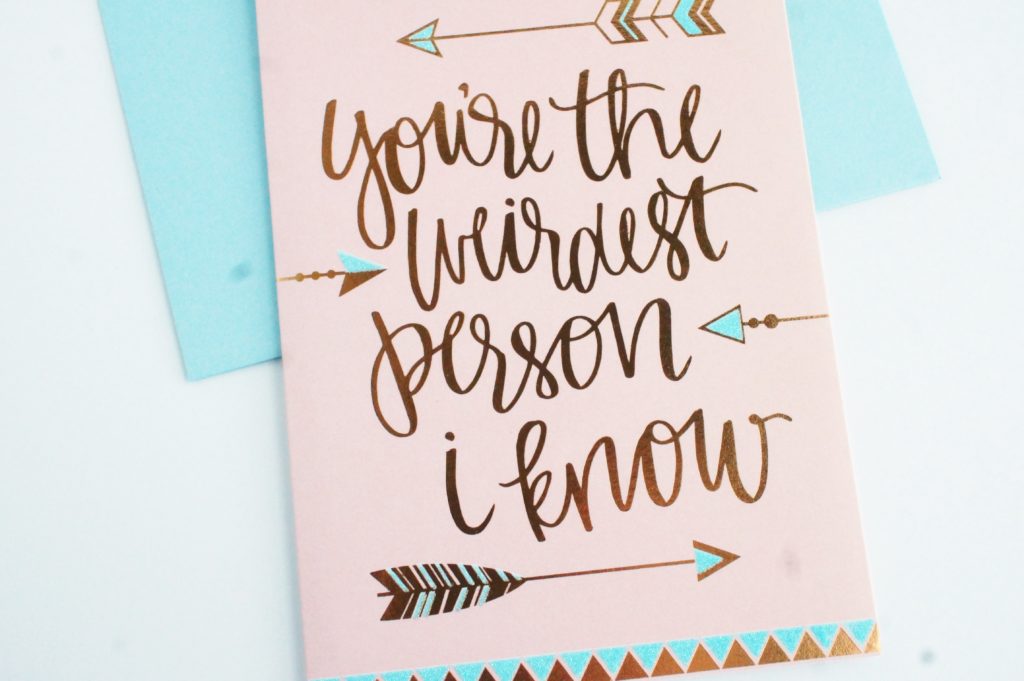 I don't want to just check this off my list and be done. My goal for my bucket list was to make this a habit and to be more thoughtful. Here's my strategy for doingthis:
Take 10 minutes to write down in your planner or your phone all of yourfriend's birthdays, their kid's birthdays, and any special dates they mentioned in conversation recently!
If you use your phone/computer calendar,set a reminder for a couple days before the actual date.
Then stock upcards for all occasions. ( Birthday, Friendship, Thank you, Celebration, Thinking of Youetc.)that way when someone is on yourmind, you will have the card handy!
I'd love to hear what you do to stay intentional with your friendships – let me know in the comments below!
PS: I took a picture of the display for the cards – so that you will know what to look for if you go!
Thank you so much for stopping by!